It's time for another round of updates to WarcraftPets, and we've got some good ones!
Sort Pets by Community Rating
During
our last round of updates
we overhauled our pet rating system, allowing each pet to be given a different rating for battle and appearance. Well, we've made those updated ratings far more useful.
Now when you use our
Smart Pet Search
or
Pet Filters
to zero in on various types of pets, you'll be able to sort your results by community rating.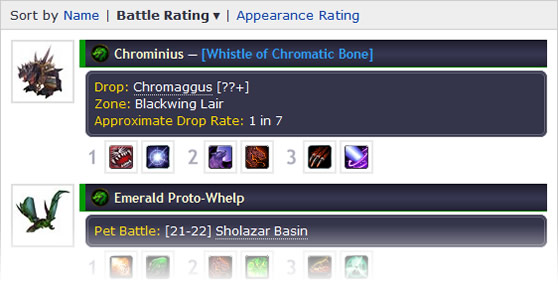 This allows you to easily discover, for example, the highest rated Aquatic pets, or the best looking pets that can fly alongside your mount. The possibilities are almost endless.
Pet Score Formula Updated
Ever since
we introduced pet score
, we've received a number of requests to increase the amount that pet level contributes to the overall score. But we wanted to do it in a way where it wouldn't trump rarity or lead to exploits.
Bwana
, one of our users, proposed a clever change to our formula that perfectly addressed these concerns. Here's the updated formula (changes in red):
2*(total unique pets)
+
.04*(sum of all unique pet levels)
+ 1*(total common pets)
+ 2*(total uncommon pets)
+ 3*(total rare pets)
+ 5*(total epic pets)
+ 10*(total legendary pets)
---
Pet Score
Previously, the formula added 4 times your average pet level. So this change increases the contribution of pet level
from 3% to roughly 18%
, whereby each level 25 pet you own is worth 1 point. That increase should make the majority of you very happy.
For those of you who haven't leveled many pets, keep in mind that more than 80% of your score is still contributed through collecting alone. No one will lose any points as a result of this update.
News Comments
You'll notice another useful update at the end of this very news post — comments!
All of our registered users are invited to comment on our latest news posts. Share your thoughts, opinions, and add to the discussion. We encourage all comments, provided they comply with our
user guidelines
. In other words, try to keep it light and constructive.
We welcome your feedback, especially when we implement a big round of site updates like this! So by all means, chime in below.

Pet Ratings Filters
Quintessence
, our Content Manager, noted that she had trouble sorting through her list of pet ratings. So we decided to help her (and the rest of you) out!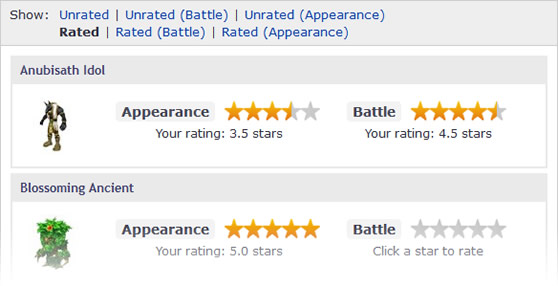 You can now
filter your pet ratings
by not only rated and unrated, but also by type (battle and appearance).
Other Usability Tweaks
We made a handful of other usability tweaks as well...
Improved Pet Index - Our A-Z index of all pets is a little easier to navigate. Click a letter of the alphabet to pull all pets that start with that letter.
User Search - We've added a User Search page to find WarcraftPets users by username or character. We've always had this functionality within our Realm Leaderboards, but it's now easier to find on its own.
Updating Help - Sometimes you're told that your character wasn't found when you attempt to reimport your pet collection. This is most often caused to a bug in the Armory following a merging of your realm. We've included some new helper text that gives you a workaround if you run into this problem.
Developer Resources Page
Last but not least, we've added
Developer Resources
(accessible from the bottom of any page in our footer). This page outlines how you can link to pet profiles and categories on our site.
This should be very useful for all of you addon, app and web developers.
Special Thanks
A very big thanks goes out to our Lead Developer,
Weena
, who has worked tirelessly to polish and implement these improvements. I also want to thank the many members of our community who provide useful feedback and suggestions to make WarcraftPets a better site.
In addition, I'd like to extend an extra special thanks to our
Site MVPs

. Your
continued support
helps to makes updates like these possible. Thanks again!