Two New Pets
Two new pets were added in the latest 6.2 PTR build — Cinder Pup and Shard of Cyrukh. [
source
]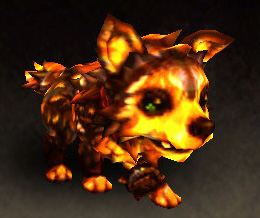 The
Cinder Pup
(pictured right)
will be a reward from a follower mission,
Fiery Friends
.
"A group of tiny fiery puppies was spotted deep within Blackrock Foundry. If we save them, we may be able to raise them."
We hope the Cinder Pup will get along well with the
Cinder Kitten
!
List of all 6.2 PTR datamined pets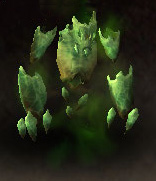 The second pet,
Shard of Cyrukh
(pictured left)
, will require a
fair amount of questing
in Tanaan Jungle before gaining access to the area in which the treasure spawns.
According to Twitter user
@Mononic1
, the treasure containing the Shard of Cyrukh is located
south-east
of Throne of Kil'jaeden. Once this area is unlocked for you, keep an eye out for a glowing yellow crystal jutting out of the ground
(pictured below)
.
Update On Crusher
Crusher
, a pet
inspired by the ideas
of a seven year old aspiring developer, was added to the PTR.
This pet will be available from
Trader Araanda
(A) and
Trader Darakk
(H), found inside the Town Hall in your garrison. Crusher will cost 1000 gold and is Bind on Use.
True to the boy's original concept art, Crusher wields a little pickaxe when summoned out
(pictured right)
.