There are some tantalizing additions in the latest PTR build — eight new pets, including Collector's Edition pets and the BlizzCon 2015 pet.
Two in-game holidays have also been updated with pets and pet toys. [
source
]
Blizzard Preview of New Pets
Blizzard released a small sneak peak of what's to come in the near future. [
source
]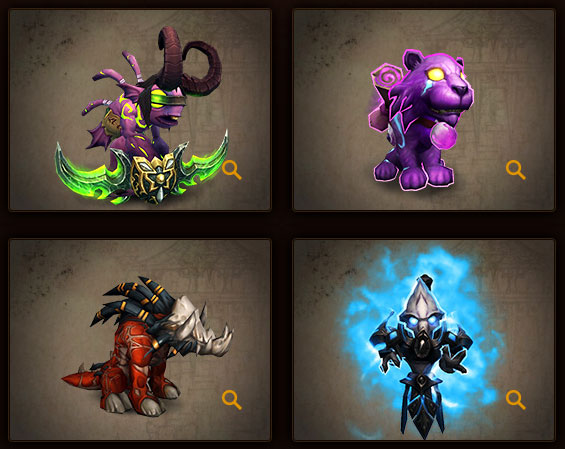 In Blizzard's preview post we can see four new pets
(pictured above)
. Starting from the upper left pet and working clockwise:
List of all 6.2.1 PTR datamined pets
But Wait, There's More!
On top of the pets listed above, datamining revealed four other new pets. These will be part of in-game holiday updates.
There will be three new pets to collect during
Hallow's End
.
How these pets will be obtained is still unknown. All three are currently flagged as "not cageable" on the PTR, but this could change prior to the patch's release. We'll have to wait and see.
Another holiday receiving an update is
Feast of Winter Veil
.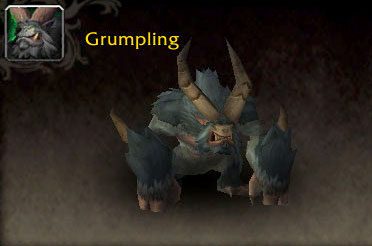 Only one new pet, the
Grumpling
(pictured right)
, will be joining other "festive" pets such as the
Rotten Little Helper
and
Lumpy
. These pets sure know how to bring holiday cheer...in their own special way, of course.
In addition to a new pet, the Perky Pug will be getting a new outfit, a
"Merry Munchkin" Costume
.
You can also enjoy the winter weather with your battle pets in a fun new way — seat them on your
Red Wooden Sled
and pull them around. Pets that cannot battle don't seem interested in a sled ride, but that's their loss!