A large number of pets was added in a recent WoD Beta patch. There are also new items, some to help you battle and others just for fun. [
source
]
Eleven New Pets
In this latest beta patch we found ten new pets in the Pet Journal, plus one that was not listed.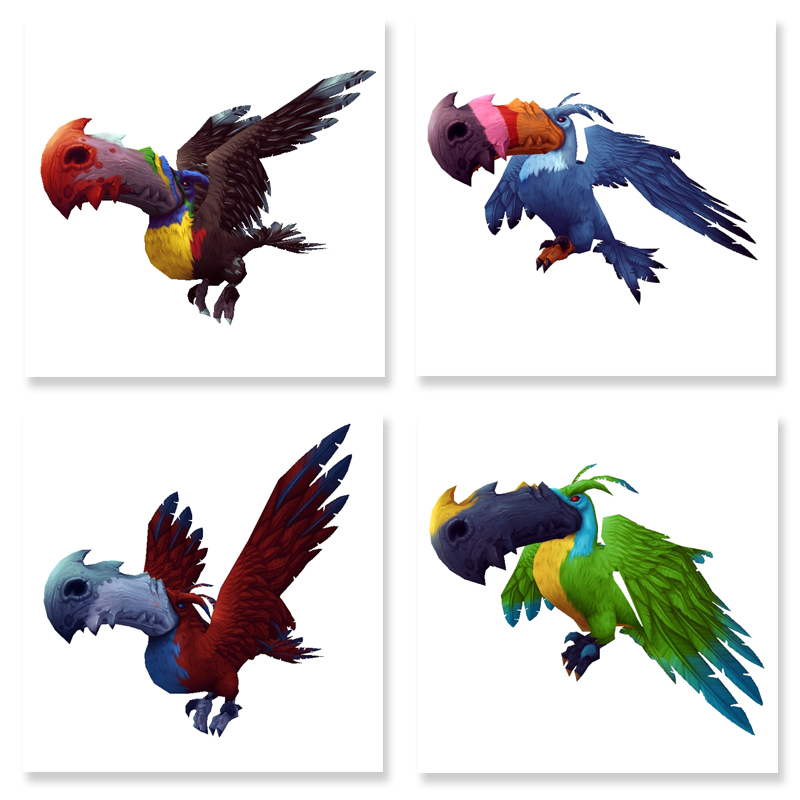 Blue Axebeak Hatchling
Brown Axebeak Hatchling
Green Axebeak Hatchling
Red Axebeak Hatchling
You may recognize these first four pets
(pictured right)
, as we mentioned them previously in our preview of
new pet models and colors
.
The Axebeak Hatchlings are likely wild and will be found in Draenor. We're happy to see that these beautiful birds will be joining our collections in WoD!
Next, there are two holiday pets, the
Lovebird Hatchling
from Love is in the Air and the
Bush Chicken
from Pilgrim's Bounty.
The Bush Chicken is currently listed in the Pet Journal as a vendor pet from Love is in the Air, however developer Jeremy Feasel
notes
that this is a bug. Instead, players will "rescue it from a delicious doom during Pilgrim's Bounty".

A new Grand Master Trainer will be appearing at the Darkmoon Faire in WoD,
Christoph VonFeasel
. Completing his daily quest rewards
Greater Darkmoon Pet Supplies
, which has a chance of dropping a pet,
Syd the Squid
(pictured above)
.
The final three newly discovered pets come from varying sources according to the Pet Journal.
Gnawtooth Rat - Pet Battle: Garrison
Goren Youngling - Unknown drop
Stonegrinder - Unknown drop (Draenor)
Last but not least, there is one additional pet that was not included in the Pet Journal,
Mystical Spring Bouquet
. Much like the balloons and most kites, the Spring Bouquet will not have stats or be able to enter a battle. It
looks like
it will be a lovely, colorful companion though.
List of all WoD Alpha datamined pets
New Battle-Stones and Vanity Items
Leveling hundreds of pets might be daunting for many players, however there might be some help on the way.
The latest beta patch added ten family-specific
battle-training stones
. Unlike the
previously datamined
leveling battle-stones, these grant a pet only one level and are not marked as "testing" items. It's still unknown where these new stones will come from, or how common they'll be.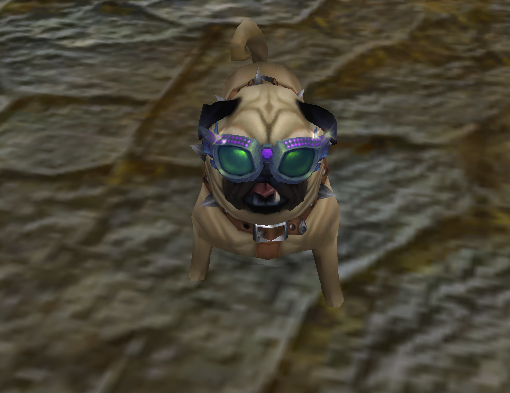 Battling and leveling aside, some pets just want to have fun! Three new vanity items for the Perky Pug will be available in WoD,
"Lil' Starlet" Costume
(pictured right)
,
"Mad Alchemist" Costume
, and
Perky Blaster
.
Playing dress up with your Pug is all fine and dandy, but take care when handing your pup fireworks!