It's
Winter Veil in July
at WarcraftPets! We've got a bunch of shiny new toys for you to play with on our site!
Smart Pet Search
You've had access to our
Pet Filters
for as long as we've been around. They've probably helped you narrow down which pets to collect. But they probably haven't been as useful for finding the perfect battle pets...
Enter our new
Smart Pet Search!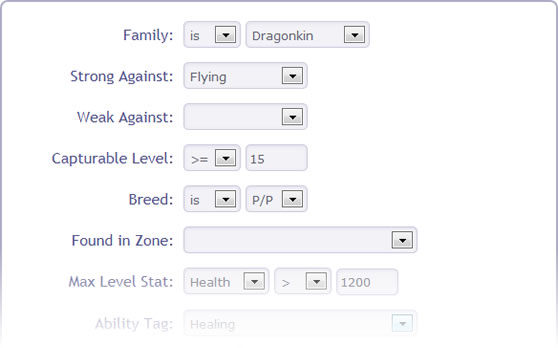 This tool provides a more intuitive interface to help you identify
exactly
which pets will serve you best in battle. Narrow your search by family, strong/weak against, capturable levels, available breeds... you name it!
You can access this search by clicking the
'Smart Pet Search'
link directly under our main search field. You can also find it in the "Tools" menu.
Best Battle Pets
And speaking of battle pets, ever wonder which pets are the toughest? Or the speediest? Or most powerful?
Check out our
Best Battle Pets
page!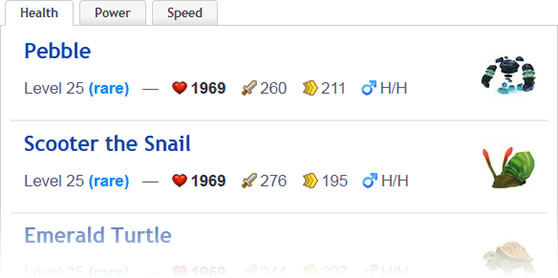 This page features the top 20 pets for each stat:

Health,

Power,

Speed. They're ranked highest to lowest by their max level values. Tied pets are further ordered by their community ratings.
Random Pet
With nearly 600 different pets now scuttling across the World of Warcraft, it's easy to overlook so many of them. So why not roll the dice to see what pet fate serves up!
Random Pet
Spin the pet wheel of fortune anytime! We've added a "Random Pet" button at the bottom of every pet profile. You'll also find a link under the "Pets" menu.
New Filter: Conditional Spawn
Curious about which pets found in the wild only spawn at night? Or during a specific season?
You can see all 12 pets with conditional spawns using the new "Has conditional spawn" filter on our
Pet Filters
page. You'll find it under the "Pet Properties" group.
Other UI Improvements
Winter Veil in July just keeps on giving! Here are some other usability improvements we've made to further your enjoyment of our site.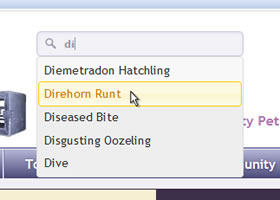 Search Autocomplete
- Whenever you use our primary search box to find a pet or ability, you'll now get a list of suggestions based on the first few letters you enter.
Collection Customization
- You'll notice that we've updated the
Collection Management
section of our site.
The third option is
'Customize List'
— the mechanics are essentially the same as when it was called
'Exclusions'
. But we've added some new options and tips to make the process a little easier, especially for new users.
Pets with Upgrade Potential
- Many of you have been asking for a way to print a list of which pets in your collection can be upgraded. So we've updated your
Printable Checklist
with an option to show only those pets in need of an upgrade. Their quality is displayed with the traditional colors.
Navigation Updates
- We've streamlined our navigation bar and added
'Guides'
as a tab on its own, making some of our most popular pages a little easier to find. We've also consolidated our
'About'
section within our
'Help'
menu.
A Big Thanks to You!
As always, we owe a
big thanks
to you, the pet collecting/battling community! If not for your feedback, updates like these wouldn't be possible.
I'd also like to extend a special thanks to our
Site MVPs
for their
ongoing support
. You guys are a huge part of why WarcraftPets remains the best site around for pet enthusiasts. Thanks!