We're kicking off the summer at WarcraftPets with a handful of site changes and improvements — one of which should make many of you OCD-types very, very pleased. So let's start there...
Pet Score Increase for Noncombat Pets
There have always been nine pets that have been a thorn in the side of our most accomplished pet collectors. If you fall into that category, you already know which pets they are: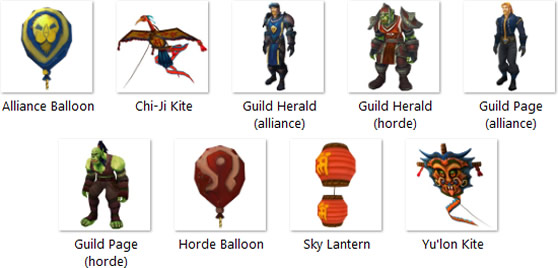 Alliance Balloon
Chi-Ji Kite
Guild Herald (alliance)
Guild Herald (horde)
Guild Page (alliance)
Guild Page (horde)
Horde Balloon
Sky Lantern
Yu'lon Kite
These nine noncombat pets have a base quality of
uncommon
. The problem is that even if you use a stone to upgrade them, the WoW Armory
still
reads them as uncommon when you update your collection. This has been a bug in the Armory for years, and a fix does not appear to be coming any time soon.
Therefore, we decided to do something about it on our end. We've changed the base quality of these nine pets to
rare
. This means that the next time you update your collection, you'll earn some additional points and finally see these pets disappear from your 'uncommon' stats.
True — everyone enjoys this increase, whether they used stones on these pets or not. But this was the only way we could address the bug on our end, and we think most of you will agree that it's a welcome change.
Smart Pet Search: Community Rating
Our
Smart Pet Search
now includes new parameters to find pets according to their community ratings. This includes both
Battle Rating
and
Appearance Rating
.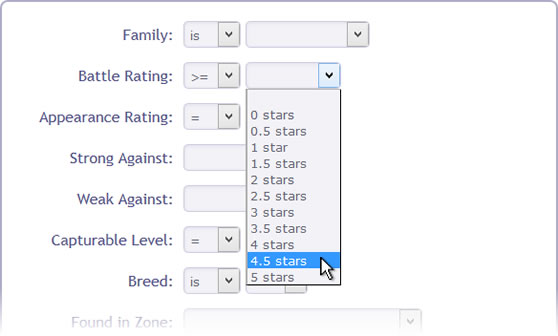 This simple addition makes it possible to zero in on the best possible pet (as deemed by our users) for any situation.
Other Updates
This round of updates includes a couple more changes to improve your use of our site.
Home Page Forum Groupings
Our home page now separates the most recent posts on our trading forums from our other forums. This will make it easier to quickly find the posts that interest you most right from our front page.
New Ability Tag: Transformation
We've added a new tag to our database of pet abilities. You can now filter abilities that have a transformation effect, i.e., the ability causes the pet to transform from one battle type to another. You'll find this new filter under 'Combat Effects.'
Our Thanks to You!
The feedback and
ongoing support
you give us make updates like these possible. As always, thank you for helping us to help you!