The new PTR build this week contained 3 new pets, one of which we previewed earlier. [
source
]
Bronze Is the New Black
Joining the
recent edition
of
Bronze Proto-Whelp
is the newest bronze-themed dragon, the
Ageless Bronze Drake
(both pictured below)
.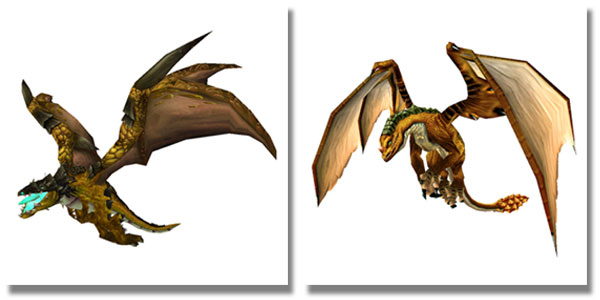 Both of these pets are drops from a
Time-Lost Wallet
, obtainable by completing the upcoming
The Deaths of Chromie Scenario
.
Check out all 7.2.5 datamined pets
New Faerie Dragon
The PTR patch also revealed a new faerie dragon pet,
Sun Darter Hatchling
(pictured right)
.
Currently the Pet Journal lists this pet as a drop from Oddly-Colored Egg, however it's unknown where this egg will come from.
The pet's flavor text may hint that the egg originates from an other-worldly source.
"This unique species of faerie dragon is not usually found on Azeroth."
Where do you think this pet will come from? Argus, anyone?