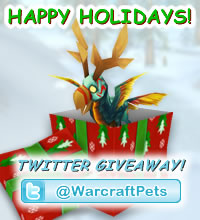 Season's Greetings!
The holiday season is upon us and
all of us
at WarcraftPets wish you and yours the very best. It continues to be our pleasure to bring you the latest and greatest pet-related news, plus a place to track and discuss your amazing companion collections.
In that spirit, our friends at
WoWTCGLoot
have provided us with several loot codes to give away to you, our loyal fans! We've got a
Tuskarr Kite
and several
Landro's Lil' XTs
, among a few other goodies.
Twitter Holiday Giveaway
Logon to Twitter and follow us
@WarcraftPets
as we ask some fun-filled trivia questions and give away some cool "holiday" loots to all of you festive collectors.
The giveaway will begin at 1:00 PM EDT tomorrow (Thursday). All of the answers to the trivia questions can be found right here on our site. The first correct answer wins. Be sure to tweet your WarcraftPets username along with your answer. One prize per member.
Good luck!