Things heat up as we discuss the
Fel Flame
in this Pet of the Month!
Collecting the Fel Flame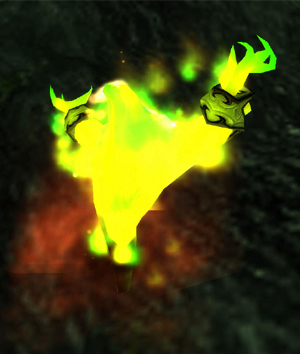 The Fel Flame is a wild pet that can be found in Shadowmoon Valley. Don't confuse this zone with the Shadowmoon Valley of Draenor, though. This pet will only spawn in Outland.
To find the Fel Flame you'll need to find its preferred habitat. Wherever you find fel fire, it's likely that a little flame is wandering around nearby.
The largest concentration of fel fire and lava can be found at The Hand of Guldan in the center of Shadowmoon Valley. However, the Fel Flame can also spawn around any of the smaller pools in the zone. Just be wary of the green waters since they're usually occupied by hostile creatures.
If you have flying in Outlands, be sure to fly up and around the volcano at the center of The Hand of Guldan. The Fel Flame may not look like it, but it can be a mountain climber and will sometimes be on the ledges of the volcano.
It might be possible to coax the this pet to spawn by killing creatures and miscellaneous wild pets near The Hand of Guldan, but the effectiveness of this method is mostly anecdotal. Of course there's no harm in trying whatever you can to get your hands on this hot pet!
Battling with the Fel Flame
The Fel Flame is good for only one thing: pure elemental destruction. It is very heavy on the DoTs. Four out of its six abilities have a DoT component.
Immolate
and
Flame Breath
both have a front-end hit with a DoT. Immolate is Elemental damage, while Flame Breath uses Dragonkin damage. The Fel Flame also uses
Immolation
, which will deal damage to the front pet for 9 turns. Long DoTs like that are great for combos, but this one will only last as long as your Fel Flame stays alive.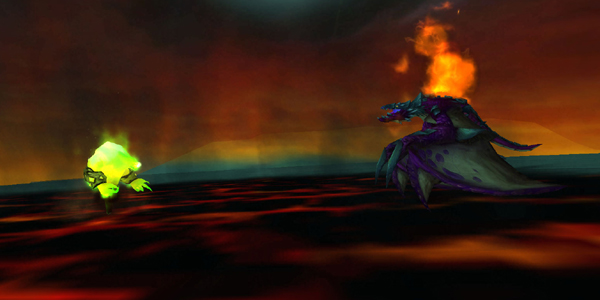 Fel Flame also has a weather effect.
Scorched Earth
deals a certain amount of damage to the front pet on each team for nine turns. However, because the Fel Flame is an elemental pet, it ignores detrimental weather effects, making this another sort-of long-term DoT.
The two abilities which don't have a DoT component are
Burn
and
Conflagration
. Both are Elemental damage. Burn is a straightforward nuke. Conflagration is the ability that puts the 'cannon' in 'glass cannon'. It is a large hit with a long cooldown, with an additional large hit if the target is burning. Good News Everyone, because the above DoTs and weather effect cause your opponent to be burning. Immolation doesn't, but it shares a slot with Conflagrate so it's kind of a moot point.
Like the proverb says, if you can't take the corrupted heat, stay out of the fel kitchen.
Check out our forum thread discussion on the Fel Flame and submit your own thoughts on this pet.
Battling Discussion on the Fel Flame
Pet of the Month is co-written by Liopleurodon, an experienced pet battler and long-time WoW player. She maintains her own Pet Battle blog, comprised of pet analyses, team strategies and general thoughts on pets.