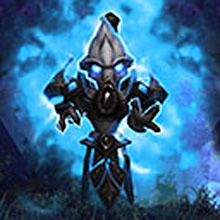 Blizzard recently announced that players can now pre-order the next Starcraft II expansion, Legacy of the Void. [
source
]
Purchasing the Collectors Edition or the Digital Deluxe will reward you with a Starcraft-themed pet in WoW, a mini-Archon
(pictured right)
.
Legacy of the Void is scheduled to release towards the end of this year. The pet will likely be mailed to your character once we near the release date.
We'll have more information on this pet once it's on the PTR, so stay tuned!
Starcraft II Expansions Going Standalone
There's great news for those that may not be interested in Starcraft II but would like to collect the related pets — each expansion will now be purchasable (and playable) as standalone games.
"For players who haven't yet played the first StarCraft II expansion, Heart of the Swarm, it just became a little easier to stage a zerg rush. Starting today, the original StarCraft II: Wings of Liberty is no longer required to play Heart of the Swarm—making this the perfect time to catch up on Kerrigan's story and command a host of additional multiplayer units for all three factions."
Now that previous games are not required to buy any of the expansions, you can pick and choose which Starcraft II pet you'd like to collect. Collecting them all is an option too!
If you have yet to purchase any of the Starcraft II games, you can pre-order
all three expansions in one bundle
(Standard version and Digital Deluxe).
The Complete Collection costs less than the price of three Digital Deluxe expansions — it's a great sale and a quick way to collect all three Starcraft II pets.