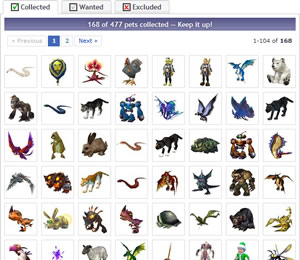 We've heard you.

Many of you had been upset about the validation routines we had on our site preventing you from adding pets of opposing factions. We asked that you add a character to your account that could summon the pet in order to add it to your collection.
However, the Armory and in-game Pet Journal showed you as having both, so why not our site? It didn't make sense to have to go through the extra step.
So... we changed it!
But in doing so, we've had to eliminate the ability to add multiple characters to your WarcraftPets account. All accounts now have only one character showing—the one you marked as your "main." This won't have any bearing on your current pet count and should serve only to simplify things going forward.
We're sure that many of you are happy to see this change. If you're not, we're willing to hear you as well. Please
contact us
with your concerns, should you have any.