BlizzCon 2009 has come and gone and we return from Anaheim with a host of news for the pet collecting community.
Cataclysm: What does it mean for older pets?
By now, everyone has heard about the next WoW expansion,
Cataclysm
. The old world consisting of Azeroth and Kalimdor will be drastically changing. The very nature of many zones will be forver altered. Some mobs will become extinct and new ones will take their place. So what does this mean for pet collectors?
In truth, we just don't know yet. But it seems reasonable to speculate that a few older pets, particularly some
dropped
pets found on old world mobs, may no longer be available after patch 4.0. We don't expect the patch for at least another 9-12 months, so collectors have plenty of time to grab those old school pets.
Grunty Attacks!
We've added the BlizzCon 2009 promotional pet
Grunty
to the site. This guy has a ton of sensational animations. One such animation can be seen whenever he is in close proximity to a
Zergling
—the two will fight to the death! From what I've seen, the victor is usually the one who was summoned first.
Video »
Onyxian Whelpling
Last week we reported on WoW's 5th Anniversary gift pet. We were disappointed to hear that it would likely share the same model as the
Dark Whelpling
. But a picture was captured during one of the panel discussions that confirms a
stunning new model
for this pet. Yay!
Speculation: New Racial Pets
As most collectors know, each race has its own set of vendored pets found near its starting area. BlizzCon gave me the chance to get a sneak peak at the new starting zones for the Goblin and Worgen races. While other sites have reported on the racials, classes, and the "feel" of these starting zones, I'll be sharing the pet collector's perspective. Keep in mind, this is pure speculation.
In Gilneas, the Worgen starting zone, I discovered new bulldog models which would make adorable companions for this race. These would be the first actual dog pets available to pet collectors (discounting the
Worg Pup
). On the Lost Isles, the Goblin starting zone, there were new Rhesus monkey models that would also make ideal pets. Only time will tell if Blizzard agrees (and let's hope they do!

)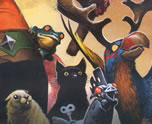 WoW Magazine
World of Warcraft: The Magazine
debuted at BlizzCon
, enticing attendees to be the first to sign up for this gorgeous and informative quarterly piece. Advertising-free, this publication will feature something for everyone: lore, behind-the-scenes, raiding and pvp tips, and a focus on the community. In fact, the first issue, slated for release late this fall, will examine the trend of collecting non-combat pets, exploring how these companions have become so popular with the player base.
Meet-and-Greet Fun
The first WarcraftPets meet-and-greet was a big success. Several fans, many of whom are
site MVPs
, joined me and Sateena to say hello and talk pets. My wife (and burgeoning publicist, lol) was on hand to take
a few pics
. Our sincere thanks to everyone who took the time to drop by. Your kind words and praise make our ongoing efforts to maintain and improve this site well worth the effort. We hope to see even more of you at BlizzCon 2010!