UPDATE
: We're aware that EU users are not seeing this pet being added to their collections via armory import. The EU armory has not been updated with Murkalot yet, however we expect Blizzard to correct this issue in the near future. Thanks for your patience and understanding!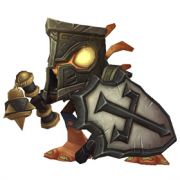 Blizzard has started mailing
Murkalot
to Blizzcon 2013 Virtual Ticket holders a little early this year!
Players who purchased the
Virtual Ticket
need only to log (or re-log) onto their character and check their mail.
Once retrieved in-game, Murkalot is BoP and not cageable. Only Blizzcon attendees who receive the pet card will be able to sell and trade this pet.