It's been quiet in the world of companion collecting, as many of us are steadfastly completing our post-Cataclysm pet collections. But we're still working to improve WarcraftPets and we've got a bunch of site updates to share!
Archaeology Guide For Pet Collectors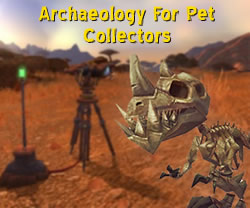 First up, our own
Doobjanka
has written a new guide for WarcraftPets to help newcomers to archaeology.
Doobjanka explains how this fun new secondary skill works and discusses how you can best level the skill with an eye on collecting the three companions it offers. So if you have yet to nab the Fossilized Hatchling, Clockwork Gnome or Crawling Claw, be sure to check out Doobjanka's
Archaeology Guide
for tips.
Pet Mobility Updates
The
mobility
stat for every pet in our database has been updated to now show whether the pet will fly alongside a flying mount. All pets have been labeled with one of the following states:
Ground
Ground (hovers) - these pets won't take flight when you do, but probably should
Air (flies alongside flying mount)
Macros for Pet Enthusiasts
We've reworked our
Vanity Pet Macros
page to make it a little easier to navigate. We also added several new macros, many submitted by members of our community.
Thanks to all of you for your submissions!
An Older Pet is Finally Added
Today we added an older Korean-only pet to our database, the
Onyx Panther
. This pet first appeared over a year ago on Korean servers. However we never added it to the site due to a lack of details about how the pet was obtained.
After more than a year, we unfortunately still don't have any answers about how Korean players were able to collect this pet. But we added it to the site for completeness. If any of our Korean readers do know the details behind the promotion that awarded the pet,
contact us
— we'd love your help to fill in the blanks.
And for all of you Top Raters out there, don't forget to rate this old gem to earn back your badge.