Yesterday we shared news about how you could
summon multiple pets in 5.3
... with a catch. Well, we have a confession...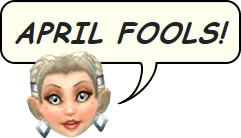 Yes, we're sorry to say that there is no such thing as VMR (variable model rendering). So fortunately (or unfortunately), there will be no one running around with hundreds of 8-bit pets in tow.
But in our
recent interview with Cory Stockton
, Cory did state that they fully intend to implement multiple pet summoning in some capacity down the road. When they do, we're certain that pets will render in all their usual stunning glory.
New Pet Filters (And That's No Joke!)
As a consolation prize, we do have some shiny new
pet filters
for you to play with. These filters have been sought after for some time!
Ever wonder which Aquatic pets can deal Beast damage? Or which pets you already own that are able to perform Mechanical attacks?
Wonder no more! With our new
Attack Type
filter group, you can find the perfect counters to popular pets and pet battle strategies. Enjoy!

Special Thanks + Drop Us a Line!
We'd like to extend a special thanks to
Drrum
(known in WoW as
Michelle De Rum
) for providing us with most of the artwork for our April Fools' joke. You can enjoy more of her creativity at
Drrum's Pets and Mounts Gallery
.
Feedback:
Did you enjoy our 2013 April Fools' Day joke? Were you fooled? Take a few moments to
send us your feedback!