We promised you a whole new WarcraftPets. Yet it looks the same. Nothing's changed, right?
Wrong!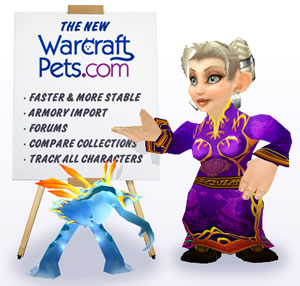 New Back-End
WarcraftPets has been rebuilt from the ground up – an entirely new back-end: 17,312 lines of PHP and 22,988 lines of HTML!
Everything has been rewritten with two goals in mind: performance and speed. WarcraftPets should now respond to traffic spikes with ease. Major slow downs should be a thing of the past. Additionally, we have a more scalable foundation upon which to expand and improve the site.
Speaking of improvements...
Improved Collection Tracking
You can now track all of your characters on a single WarcraftPets account! Even better, we're introducing an
Armory Import
feature that will import your pet collection directly from the WoW Armory in a single click. Whenever it's time to update your collection after getting a new pet or two, you can easily reimport it from the Armory. Or, you can continue using our manual update to check off pets one by one. The choice is yours.

Merge Multiple WarcraftPets Accounts
If you're one of the many people who have created multiple accounts on our site to track each of your character's collections, we've got you covered. You can merge each of your secondary accounts into your main. Simply log into your secondary account and scroll to the bottom of the
Account Management
page. There you'll find an option to merge that account into your primary account.
NOTE: Merging is only available to accounts that list only ONE character. Once you add a second character to your account, you will be unable to merge it into another WarcraftPets account.
Collection Comparison Tool
If you've been looking for a way to easily compare your pet collection with other collectors, you got it! Now you can
Compare Collections
between any two WarcraftPets members or even between individual characters!
We've added a shortcut icon [
] to allow you to easily compare your collection to other members of the site while you browse. You'll see this icon in member lists and beneath comments.
Liking what you see so far? It gets even better!
Forums – Yes, Forums!
For years people have been requesting forums on WarcraftPets. Thanks to our architectural updates,
Forums
are finally possible. We've got forums for:
Pet Collecting - Share pet collecting news and advice.
Pet Trading - Organize pet trades and sales with other collectors.
Pet Battles - Discuss pet battles, strategy and theorycrafting.
Note that you'll need to be logged into your WarcraftPets account to post.
But Wait... There's More!
Thanks to
your support
as the BEST fansite community in the WoW universe, we've got even more goodies for you!
Pet Filter Updates - Add any number of filters. Exclude certain pets while including others. A streamlined UI makes it easier than ever before!
Pet Interactivity - We've added all interactions to each pet's profile. Now you can easily see which pet interacts with which other pets, critters and characters! Here's a complete list.
Unlisted Pets - For your added convenience, we're now maintaining a list of all recently datamined pets covered in our news section that have not yet been added to our database.
Worldwide Realm Support - You can now add characters on any realm to your WarcraftPets account, including realms on Asian servers.
Got Bugs?
We've done extensive testing, but anytime a website of this scope undergoes so many changes, some bugs are bound to slip through the cracks. If you notice any bugs or odd behavior, please
contact us
to report it.
A Very Special Thanks
None of these upgrades and features would've possible without the work of two programming geniuses. As the owner of WarcraftPets, I'd like to extend my sincerest thanks to them, and I encourage our community to do the same.
Weena
, our Lead Developer - You've spent countless hours reprogramming the site and creating many of the new features which are destined to become WarcraftPets staples. You've tweaked page upon page to match my exacting designs. Our community owes you an enormous debt of gratitude.
Cal Henderson
(a.k.a.
Bees
) - You wrote the book on
building scalable websites
(quite literally). Without your exceptional guidance and support, we wouldn't have gotten very far. Thanks again!
Dive Right In!
As you can see, there are tons of new upgrades and features. So dive right in! Enjoy the armory import, multi-character tracking, collection comparison tool, and everything else mentioned above! We'll see you in the
forums
!