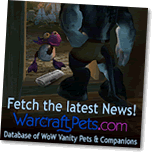 We're thrilled to announce the winners of our recent
Ad-It-Up Contest
. All of us were super-impressed by the amazing array of creative and clever ads we received. There were nearly a hundred entries and it wasn't easy to select our top picks, but we think you'll agree that these three individuals have done an outstanding job!
We
/congratulate
our winners and we'd also like to
/applaud
everyone who participated in the contest. I've posted the Top 10 Runners Up and other honorable mentions in the
Ad-It-Up Gallery
. Check it out!
On a personal note, I'm very excited by the results of WarcraftPets' first major contest. I think you'll be seeing more contests from us in the future. Additionally, you'll eventually see a few of these ads (or variations thereof) helping to promote our site!