Thanks to Deowulf-Dragonblight, Ariennelenna-Dragonblight, and Sita-Fenris, the secret of
Courage
has been solved! [
source
]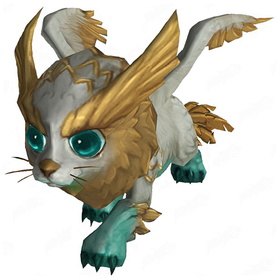 Courage is a shy larion cub, but can be coaxed out at
Nemea
's Retreat (slight northeast of Hero's Rest, above ground).
There are a total of 9 larion cubs at Nemea's Retreat. Gather enough players to interact with these cubs at the same time and Courage will appear.
Initially, it was believed that all 9 cubs needed to be interacted with at the same time. However,
Wowhead has tested
this further and found only 5 out of the 9 cubs need to be pet at the same time.
A couple of cubs are hovering and may seem out of range, but it's possible to pet them if you jump up and quickly click on them.
Pet 5 out of 9 larion cubs simultaneously and Courage will emote and appear next to Nemea for a short period of time (about 30-40 seconds). Interacting with Courage (NPC) will add the battle pet directly into your Pet journal. You don't need to have participated in the summoning to collect Courage, simply be present when the NPC spawns.
We're ecstatic that Courage has finally been found! Happy collecting!