There are many different aspects of Pet Battles to enjoy. From battling NPCs to queuing and battling other players, and of course we can't forget the pets themselves. These are the basic and core activities of Pet Battles.
But there's another awesome way to utilize this mini-game — Pet Battle tournaments!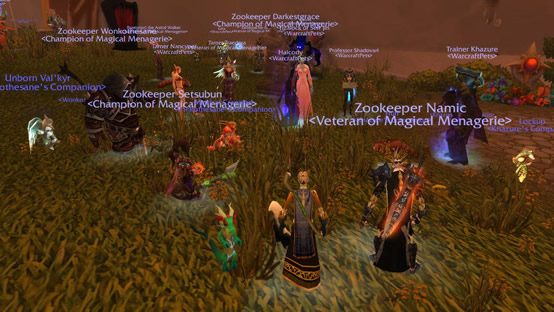 WarcraftPets Guild-run Pet Battle Tournaments
In the past, we covered
GKick Network's Global Pet Battle League
. However, tournaments aren't reserved for just large organizations. Anyone can put together a fun and rewarding contest for their guild or friends and family.
The official WarcraftPets guild on US Horde Madoran has had many
successful Pet Battle tournaments
, and continues to host lively events.
Many of the tournaments are themed and award prizes. Limiting the selection of allowed pets adds a little bit of challenge and keeps the contests interesting. Prizes come in the form of what else but pets! Guild members can donate pets for the tournaments, but the majority or prizes come from the WarcraftPets guild bank.
There's no entry fee to participate in these officer-run Pet Battle tournaments, and everyone is welcome to attend whether you wish to battle or simply spectate. Don't forget to bring your pets!
Hosting Your Own Tournament
The original WarcraftPets guild has grown in numbers and branched off into several
official and unofficial sister guilds
, some on the same server. But don't let size deter you from organizing and hosting your own Pet Battle tournament. Regardless of how big or small, how few or many, any Pet Battle tournament can be fun.
Here are some helpful tips on getting your own tournament started.
Plan and organize prior to announcing your tournament. Gauge the interest level among your guild or friends and determine the best way to hold the contest. Is there a theme? What level do pets need to be to enter? How will players progress through the tournament? What method of determining the winner is fair and best for your group?
Announce when and where your tournament will take place in advance. Give others time to plan whether or not they will be able to attend.
Communicate with your attendees. Be sure to let them know if the tournament needs to be canceled, postponed or if changes need to be made. They'll appreciate being kept in the loop.
Have more than one judge observe the tournament. Disputes can pop up over the results of a battle. However, now that everyone can spectate a Pet Battle duel in progress, having multiple eyes and ears around will help the contest run more smoothly. Of course too many and it might go the other way!
Although you may have a few judges watching over the matches, it might be best to have only one scorekeeper to track wins and losses. (In the WarcraftPets guild Tizril does a fantastic job maintaining tournament brackets.)
Ventrilo, Mumble, or any other VoIP program can be helpful when making announcements or handing out directions for the tournament.

You can also use raid markers to help direct participants as the event progresses.
Because the level requirement to join a raid group is level 10 or higher, it's helpful to set the minimum player level to 10 and up. This isn't absolutely necessary, but having all participants in the same raid together allows for more efficient communication and organization.
Prizes are not always necessary or mandatory, but they make for great incentives. They can be pets, gold, or other desirable goods.
Handing out prizes after the event can sometimes be tedious. Our very own guild leader of the WarcraftPets guild, Doobjanka, recommends creating a guild bank tab and guild rank designated for contest winners. Once the tournament is over, the winners can be promoted to a specific rank that allows them to withdraw one pet from the bank tab.
Take screenshots to commemorate the event. Encourage attendees to capture some memorable moments as well.
And last but not least, have fun! Although you'll want to keep the tournament organized, it's still possible to maintain a lighthearted atmosphere.
Come Join Us!
If hosting your own Pet Battle tournament doesn't seem like the task for you, feel free to attend one of the WarcraftPets guild events instead. Many tournaments are announced in the
WarcraftPets Guild forum section
; if you have any questions, don't hesitate to ask.
Whether you'd like to take on the challenge and duel another player or observe from the sidelines, everyone is welcome. Battle on!