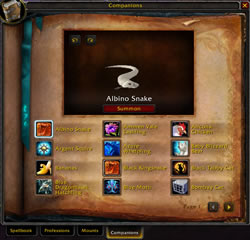 The first pre-Cataclysm Patch is live! Along with talent changes and updated game mechanics, the user interface has been revamped.
For pet collectors, you will now find your pet tab within your spellbook instead of your character screen. Pets are still listed in alphabetical order, but the names of each companion are now conveniently listed next to their summoning icon as well. This should make it easier to find and summon that special vanity pet without having to memorize the companion's corresponding icon image!

Also, we'd like to remind everyone to update your addons since they will likely be outdated and broken due to the many UI changes. Be sure to check out the
Addons for Pet Collectors
page for tons of neat companion addons!