Along with
over 40 new pets
, a new trainer is also coming in Patch 9.1.
This "Carefree Pet Tamer" is a pet trainer located off the beaten path, similar to
Crysa
and
Environeer Bert
. She offers an account-wide daily quest,
Temple Throwdown
.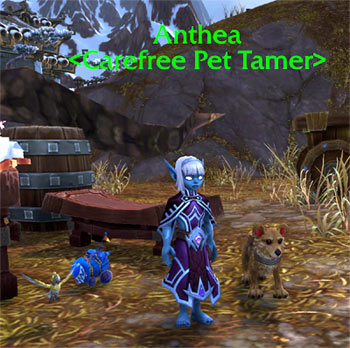 Anthea
(pictured right)
can be found at the Temple of the White Tiger in Kun-Lai Summit (south of the "W" on the map, across the bridge) in Patch 9.1.
Her parents left her in the temple's care while they went to defend the Shrines in the Vale of Eternal Blossoms, or so she claims. Anthea's only real concern seems to be pet battling though, so bring your best team because she's ready for a match.
The encounter consists of all level 25 epic quality pets.
Completing Anthea's daily rewards a
Grummlepouch
, which has a chance to drop one of the pets on her team —
Squibbles
! This pet currently uses the same model as
Feathers
.
Now if only we could convince her to let us adopt Churro, a pup that uses a previously datamined
Golden Retriever
model.