13 new pets were added in the recent PTR patch, plus a vendor that sells cosmetic items in exchange for Island Expedition dubloons. [
source
]
Even More Pets!
The number of new pets coming in Patch 8.1 just keeps on growing — there are
13
more, bringing the current total to
36
new pets!
This week's PTR build added pets from Island Expeditions, 2 of which can be purchased from a vendor for
Seafarer's Dubloons
. Read below for more information on this new vendor.
All pets listed here are from Island Expeditions unless stated otherwise.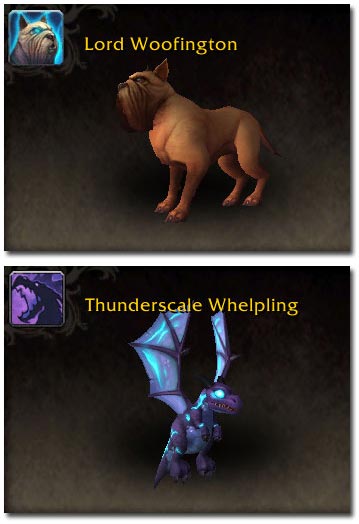 Albino Duskwatcher
Baby Stonehide
Crimson Octopode
Firesting Buzzer
Leatherwing Screecher
Lord Woofington (pictured right, above)
Needleback Pup
Nightwreathed Watcher (Darkshore Warfront)
Rotting Ghoul
Scritches
Shadefeather Hatchling
Thunderscale Whelpling (pictured right, below)
Tonguelasher
Check out all 8.1 battle pets
On top of newly added pets, we now have more information about the
previously discovered baby raptor pets
. One will remain wild, another will be a drop from a rarespawn, and the final 2 will be purchasable by each faction for a new currency (possibly obtained during the Darkshore Warfront). We're a little disappointed there won't be a fun story attached to these cute carnivores, but we look forward to collecting them nonetheless!
New Dubloon Vendor
A new vendor for each faction can be found near the Island Expedition area on the PTR. Captain Klarisa for Alliance and Captain Zen'taga for Horde.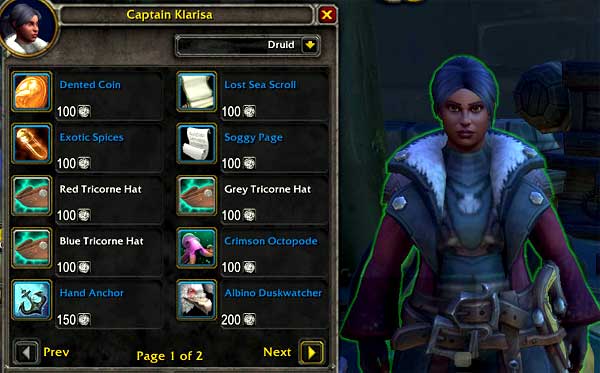 This vendor sells cosmetic and reputation items in exchange for
Seafarer's Dubloons
. Wowhead has additional details on what can be
purchased with Island Expedition currency
.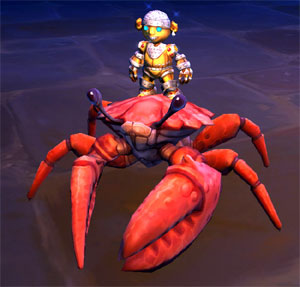 Pet collectors will be interested in the Albino Duskwatcher (200 dubloons) and Crimson Octopode (100 dubloons), plus a new toy,
Cranky Crab
(200 dubloons) which allows your battle pets to mount up and ride a crab
(example pictured right)
!
It's unknown if all battle pets (existing and new) will appear on this vendor. At the moment, only the 2 pets noted above are for sale. Even so, it might be a good idea to save a few extra dubloons for Patch 8.1.