The Secret Finding community has discovered and solved (in record time!) another battle pet: Glimr! [
source
]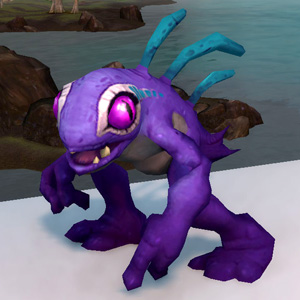 Glimr
(pictured right)
is the newest addition to WoW's murloc family. And an adorably colorful one, at that!
Players can collect this pet by completing a quest chain that starts on an iceberg in Grizzly Hills (coordinates: 18.4 88.2).
A Glimmerfin Scout NPC will spawn, and drop a
quest item
on the ground. Note that sometimes the NPC doesn't leave behind a quest, however the respawn time is fairly short (around 5 minutes). Wait for another spawn and the quest should appear eventually.
A flying mount and a water mount (water-breathing is provided from one of the quests) are invaluable for collecting items and defeating monsters during this short adventure. There's even a Pet Battle encounter! (Battle scales with the highest level pet on your active team.)
Do all of this, aid the Glimmerfin, and Glimr will be rewarded for completing the final task of this quest chain.
Check out
Wowhead's full Glimr walk-through
for more details.
This little murloc is a wonderful and unexpected surprise. We're ecstatic to welcome Glimr to the battle pet family!