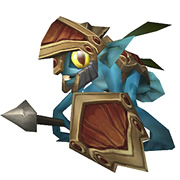 Blizzard recently provided an update on the status of the 2013 Arena Pass rewards. [
source
]
They have resolved the issue that caused a delay in awarding players with the pet and title for participating in the Arena Pass event.
Players are already
reporting
that they received
Murkimus
shortly after the update, however the Vanquisher title may still be delayed.
Blizzard has only just started sending out the rewards, so if you have yet to receive the pet or the title it may arrive within the next few days. Keep an eye on your in-game mail!