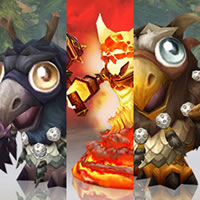 With only a couple days left in the month of November, many were wondering when or if the announced companions would be going on sale from the official Blizzard Store. True to Blizzard's word, both the
Moonkin Hatchling
and
Lil' Ragnaros
are finally available in the
PetStore!
Ragnaros claims it may be "too soon" but I say it's "just in time!"
Each digital download costs $10 and can be redeemed and applied to "a single North American World of Warcraft license." EU players will likely need to purchase these two pets from the EU Blizzard Store to avoid regional redemption complications.
Much like the
Pandaren Monk
, between November 29 through December 31, 2010, Blizzard will be donating half of every Moonkin Hatchling purchase to the
Make-A-Wish Foundation
®
.