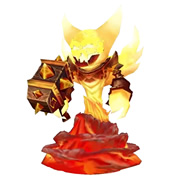 Summer is inching closer and closer, and what better way to prepare than by adopting a mini-fire lord to add to your collection!
Lil' Ragnaros
is currently on sale in the Blizzard Pet Store for 50% of the original price. [
source
]
Don't forget that the Pet Store sales are regional, so be sure you're purchasing from the correct store.
The
US sale can be found here
, and the
EU sale here
.
Whether you're looking to add him to your own collection or as a gift for someone else, don't delay! The sale ends on April 9th, so act now while it's still hot.