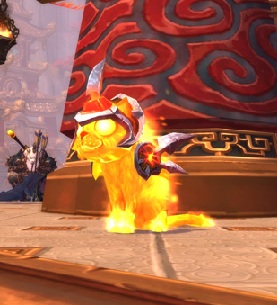 Blizzard recently announced that 100% of the proceeds from Cinder Kitten sales will be donated to the Red Cross Sandy relief effort. This charity will help aid those affected by the superstorm. [
source
]
This fiery kitten isn't available yet, but once it goes on sale it will be adoptable from the
Pet Store
for $10. Much like
previous charity drives
held by Blizzard, there will likely be a deadline for donations.
More information and details on when and how to adopt the Cinder Kitten will be coming in the near future.
Helping Out Now
Although the Cinder Kitten hasn't been released yet, there's still other ways you can help out the victims of Sandy.
WarcraftPets is still
accepting donations
that will not only support the website but also aid many affected by the superstorm. For the remainder of this week, 50% of every donation will be added to our own donation of $250 to the American Red Cross.
Whether you plan on purchasing a Cinder Kitten, or would like to donate to WarcraftPets, every little bit helps!