Brightpaw Now On Sale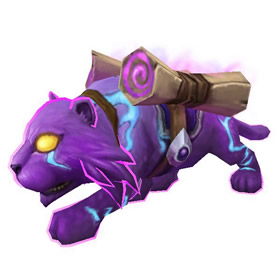 It was
announced during BlizzCon 2015
that a new pet would be available from the Blizzard Store this winter, and that pet has arrived —
Brightpaw
! This little mana kitten is sure to brighten up any collection.
Through December 31, 2015 all proceeds of this pet will be donated to the
Make-a-Wish Foundation
, a non-profit organization.
Whether you're adopting Brightpaw for yourself, gifting one to a family member or friend, or doing both, know that your purchase will be going to a charitable cause.

WoW Special Sale - 75% Off
Currently Blizzard is having a special sale on the WoW Battlechest and Warlords of Draenor. [
source
]

Take advantage of this sale and collect the Recruit-a-Friend (RAF) pets
(pictured above)
at a reduced price. Save 75% on the digital versions of WoW — this brings the WoW Battlechest to $4.99 USD (regular price is $19.99).
Note that you only need the WoW Battlechest to complete the process for the RAF rewards; the Warlords of Draenor license is not necessary on the RAF accounts. Also, it's possible to gift the WoW Battlechest to someone else, or to yourself for use at a later date.
For more information on collecting the RAF pets, check out our
forum thread discussion
.
The sale ends January 4, 2016 at 11:59 p.m. PST, but best not delay. What better gift for the holidays than the gift of new pets!