The Darkmoon Faire is back in town, so don't forget to save up 90 tickets for the
Darkmoon Hatchling
(coming in 5.1)!
We checked out the PTR and said 'hello' to the newest Pet Tamer, Jeremy Feasel.
Besting the Best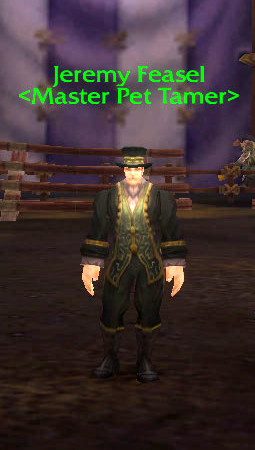 Jeremy Feasel is a Master Pet Tamer located within the fairgrounds, across the way from the tonk daily area.
He has three epic quality level 25 pets on his team.
Honky-Tonk (mechanical) - 1745 health, 294 attack, 280 speed
Fezwick (beast) - 1570 health, 311 attack, 294 speed
Judgement (magical) - 1587 health, 329 attack, 276 speed
Unlike other Pet Tamer quests, his quest is a daily and costs one Darkmoon Game Token each time you wish to battle him. You can challenge him once per day while the faire is up and running.
Completing his daily quest will reward you with some gold and
Darkmoon Pet Supplies
. This goodie bag has a chance to drop the new
Darkmoon Eye
, similar to one of Jeremy's pets!