Krokuun Locations: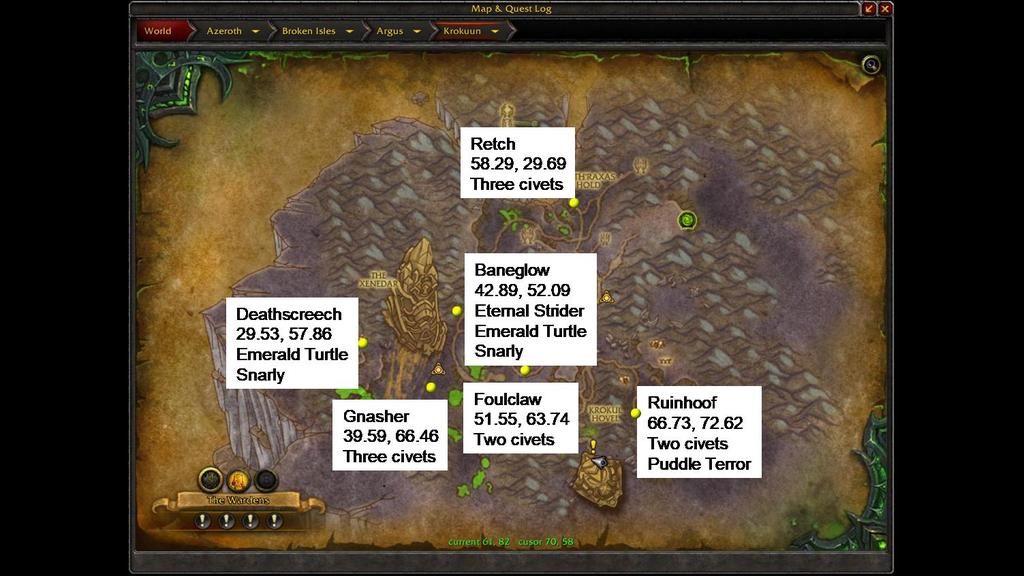 Aquatic:
Ruinhoof: Two S/B (2,1,2) civet types. You'll end up faster than Ruinhoof once you screech. Puddle Terror (1,2,2). The idea being to avoid as many of the Hoof/Chew combos as possible with Dive.
Foulclaw: Two S/B (2,1,2) civet types. This one sorta sucks since Boss+Crouch = Zero damage. You want to pass one turn after crouch is used and then you dive. This should allow you to maintain the Screech debuff more easily. There is some RNG here depending on if you get double tapped with Flurry.
Baneglow: Easy, can probably use w/e you want. It's a flyer so Emerald Turtle is good. I used an Eternal Strider to get the water weather to reduce duration of the dot and to put it to sleep but I'm fairly certain that was not necessary.
Retch: Used three civets. Keep up Screech and spam Gnaw.
Deathscreech: This was sorta odd. He just spammed Infected Claw, never used Liftoff. Emerald turtle and snarly for clean up.
Gnasher: Back to the civets. Screech + Gnaw makes short work of critters.