There were updates to the WoD pets in a recent WoD Beta patch, and a new item was added to the Menagerie vendor. [
source
]
Updated WoD Pets
A number of wild pets was recently removed from the beta Pet Journal. These pets were set to be found in Draenor, however they were not fully implemented.
Bloodbeak
Bloodthorn Hatchling
Cerulean Moth
Crimsonwing Moth
Fen Crab
Glowing Sporebat
Ironclaw Scuttler
River Calf
Sapphire Firefly
Violet Firefly
List of all WoD Alpha datamined pets
Although it's disappointing to see any pet removed from the game, there will still be many pets to collect in the expansion. There's a total of 96 new pets so far, one of which received a light makeover.

The Karabor Kid was
first introduced
into the beta Pet Journal a couple of weeks ago, and has since then received a bit more flair. Renamed to
Argi
(pictured above)
, this baby blue goat is now decked out in gold jewelry and has even grown a dark blue mane. How fashionable!
What's In the Bag?
The vendor located at the Menagerie inside your garrison has updated her wares and has a new item for sale.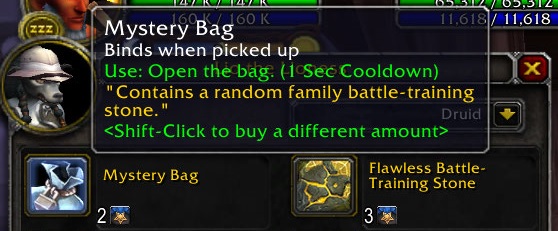 You can purchase a
Mystery Bag
for two
Pet Charms
. Inside the bag you'll find a random
family battle-training stone
. These new stones are Bind on Pick Up and grant one level when used on a pet.
If you prefer a leveling stone that is not tied to a specific pet family, the Menagerie vendor also sells
Flawless Battle-Training Stones
for three Pet Charms each.
Hogs Removed
A couple of weeks ago, we
reported
that
Hogs
was no longer the reward for completing the PVP achievement during WoW's 10
th
anniversary.
At the time it was unknown what would become of this bloodthirsty gnoll, however developer Jonathan LeCraft has shed some light on the fate of Hogs.
This is disheartening news, but we remain hopeful that Blizzard will find an appropriate situation to award this iconic pet in the future.