In the latest WoD Alpha build the accuracy for many abilities was altered, and a new possible pet from tailoring was discovered. [
source
]
Accuracy Changes
Senior Game Designer, Jonathan LeCraft,
started a discussion
on player preference between accuracy versus damage ranges.
"Pet battle peeps: would you prefer a wider variance in damage (95-105 vs 70-130) instead of the 80-95% miss chance?"
Based on feedback from this discussion, many pet abilities
received an increase in accuracy
in the WoD Alpha. A large number of abilities saw their hit chances increased to 100%. [
source
]
These changes need to be tested further and should not be seen as guaranteed, but it's possible that pet abilities will hit more often than miss in the expansion.
New Tailoring Pet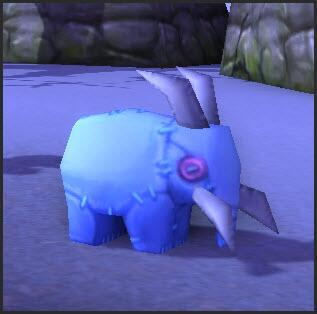 A new pet was added to the WoD Alpha, the
Elekk Plushie
. This bundle of literal fluff is crafted by tailors and is Bind on Pick Up. Thankfully for non-tailors, it can be caged.
LeCraft provided more details on Twitter and even an image of the pet
(picture right)
. It was revealed that the Elekk Plushie will be
a stationary pet
that
won't do too well
in Pet Battles.
LeCraft noted
that it's currently undecided if this pet will actually be implemented. Perhaps the Elekk Plushie needs a bit more fight sewn into it first!
Alpha Testing NPC
A new NPC arrived in Orgrimmar and Stormwind on the alpha, Pet Battletaur. Players visiting this vendor can purchase
Mythical Battle-Pet Stones
, Battle Pet Bandages, and Flawless Battle-Stones. The Mythical Battle-Pet Stone is not consumed when used.
This leveling stone will probably only be available for testing purposes, and it's unlikely that it will be released on live servers. It's also unlikely that Pet Battletaur will stick around once testing has ended.