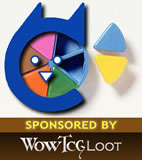 Put on your thinking caps, boys and girls! You'll need them if you want to win big in WarcraftPets
Trivia Contest
! To compete in this contest, you'll need to answer 15 questions that test your knowledge of companion pets and WarcraftPets.com!
First, second, and third place winners will be chosen randomly from those who submit the highest total of correct answers. Think hard and you could win some INCREDIBLE prizes!
Sponsored by
WowTCGLoot.com
, this contest is sure to make you think! Submissions must be received no later than Friday, June 25th at 11:59 PM, so enter now!
P.S. Don't share your answers, or you could hurt your own chances to win.