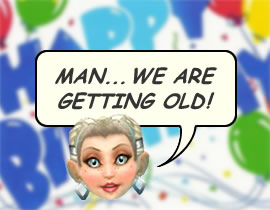 Happy Birthday to Us!
Today WarcraftPets celebrates its fourth anniversary! It's hard to believe that four years have already passed
since the day
WarcraftPets.com first came online. Back then, we were just a database site with a few guides and a small group of devoted followers. And today we're the #1 site for collectors of WoW companion pets!
It's been an exciting journey for
all of us
, but we wouldn't be here without you, WoW's
best fansite community
, bar none.
Year in Review
Since our
last birthday
, WarcraftPets has enjoyed a variety of milestones and site improvements:
The addition of more than 30 new companions added to our database
An official addon for our site, WarcraftPets Express, to easily port your in-game collection to WarcraftPets
World of Petcraft, our monthly comic dedicated to WoW companion collectors
A more streamlined pet collecting UI
A hugely successful fundraising drive (thanks to all of you!)
And most recently, our best April Fools' prank yet!
Our Continued Thanks
Thanks again to all of you for
your support
over the years, especially our
Site MVPs
who've been our biggest supporters time and again.
In the coming months, we've got even more in store for you. Patch 4.1 (coming very soon) brings with it more than 10 more new pets. Plus, it won't be long before we launch big updates to the site allowing users to track collections on multiple toons with a single account. And another contest is on the way too, so keep your eyes peeled!
To each and every one of you:
Happy Collecting!