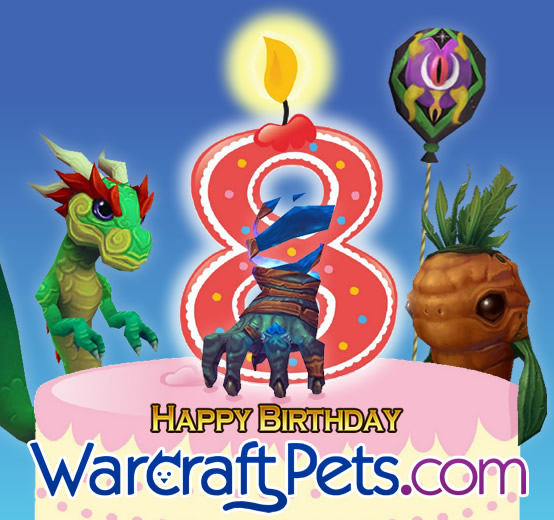 Time flies... ! It's been eight pet-filled years since WarcraftPets came online. From
day one
, we were dedicated to bringing you everything related to "small pets" (as they were known back then).
Over the years, we've changed almost as much as WoW itself. Our site and community has grown to become the "go-to" resource for pet battlers and collectors —
thanks in large part to you
.
Year In Review
The past year has been filled with new additions and LOADS of
new pets
!
Thank you for 8 Amazing Years
Thank you once again for supporting our site with your regular visits. We'd especially like to thank our

Site MVPs
for their
ongoing contributions
to the site.
Now it's your turn — join in the celebration! The next time you log into WoW, take out your favorite pet and give it a /cheer on our behalf!
Happy Collecting!
May your travels through the World of Warcraft continue to be filled with exciting pet battles and lovable companions.