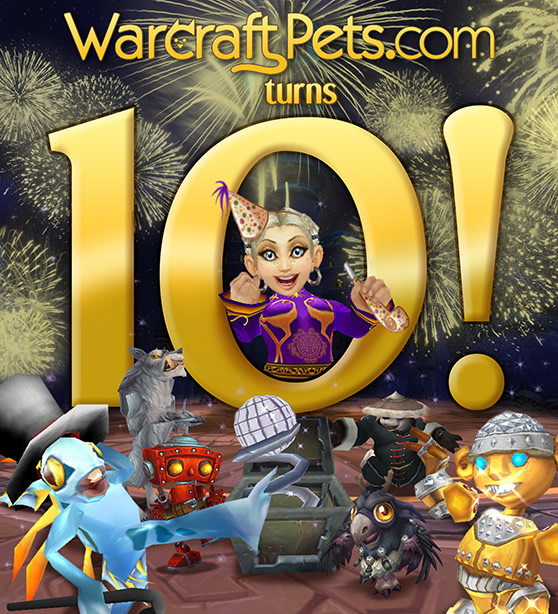 It's been 10 years since WarcraftPets
first came online
. (Wow... has it really been that long?)
That's 10 years of collection tracking, pet-related news, and fostering an amazing community made up of remarkable pet collectors like you!
Major Milestones
Throughout the past decade, there have been some major milestones for WarcraftPets. Here are just a few of the notable events that occurred over the past 10 years.
Thank YOU for 10 Amazing Years!
We've said it before, but we can never say it enough: thank you, our site members and fans, once again for supporting our site with your regular visits. We'd especially like to thank our

Site MVPs
for their
ongoing contributions
to the site.
I never imagined WarcraftPets would get as big as it did all those years ago when I coded it from scratch. But in the end, all I created were the bones of this site — it's all of you who supply its lifeblood. Thanks for sticking with us for so long.
An Extra Special Thanks
While I may have created this site a decade ago, it wouldn't exist today without the help of two very important volunteers —
Quintessence
and
Weena
. Both have spent countless hours building and adding content to WarcraftPets over the years. Their tireless efforts and devoted contributions cannot be understated.
I encourage you to offer them your heartfelt thanks and appreciation in the comments below. Without their work, this site probably wouldn't have endured for five years, let alone ten. Their time and talents have been instrumental to WarcraftPets' success.
Happy Collecting!
Now it's your turn — join in the celebration! The next time you log into WoW, take out your favorite pet and give it a /cheer on our behalf!
May your travels through the World of Warcraft continue to be filled with exciting pet battles and lovable companions. Meanwhile, our site will continue to inspire, inform and entertain you as you build the ultimate pet collection.