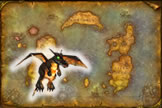 NEW GUIDE!
We've offered
pet filtering
since WarcraftPets began, but we've never had a way for collectors to filter by zone—until now. Our new
Vanity Pets by Zone
guide displays pets by continent, zone, and zone level. Built in functionality allows you to toggle
event-based pets
on or off. Both new pet collectors and casual collectors alike will get a lot of use out of this guide.
New Collectors
: Begin at the top of a continent and work your way down, stopping only in those zones that offer pets. And if you're at the lower levels, you'll appreciate the level-based sorting, allowing you to easily collect pets as you level from zone to zone.
Casual Collectors
: Bookmark this guide and use it throughout your daily travels. When you hit a zone, you'll quickly discover whether there are any pets worth grabbing in the nearby vicinity.
If you enjoy this guide,
drop us a line
. We always appreciate your feedback.