New Recruit-A-Friend Pet
Blizzard has relaunched the Recruit-A-Friend program, which means a new pet is now available: Rikki
(pictured below, right)
. [
source
]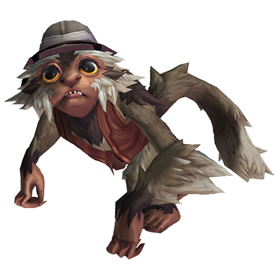 Players that recruit a friend (or themselves) can earn
Rikki
once their recruit adds at least one month of game time to the RAF account.
To get started, simply head to the Social window in-game and select the Recruit tab. Generate a recruitment link (link does not expire until a listed date) that you can send to friends or even yourself. Once eligible for your reward, head back to the Recruit tab in the Social window to claim Rikki.
Unlike the previous version of the RAF program, recruiters don't have to wait to collect this pet. Rikki can be redeemed as soon as the appropriate amount of game time is applied. (Note that his may not apply to additional RAF rewards, as game time seems to be added on a monthly basis.) This pet is then added directly to your Pet Journal.
With his safari hat, vest, and trusty banana, Rikki looks ready to join you on your adventures — will you be recruiting him to your team?
Pet Score Changes
You may have noticed a shift in realm and site rankings. Don't worry, you're not seeing things!
We've recently adjusted how the
Pet Score
is calculated. Each level 25 pet in your collection is now worth more, and non-combat pets have been given a small score boost.
Learn more about Pet Score Changes
Note that these changes are not retroactive, so you'll need to re-import your collection to see an updated Pet Score.