We've launched another round of exciting updates for WarcraftPets! Topping the list are site-wide pet collection rankings according to
pet score
.
Score a New Rank!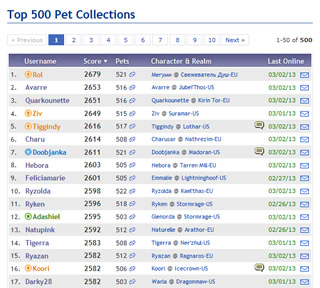 Pet score
is a numerical assessment of your pet collecting efforts. Your score is primarily determined by the total number of unique pets you've collected and the quality of those pets. To a lesser extent, your pets' levels play a role.
Prior to the introduction of pet score, all collections were ranked according to the total number of pets collected. However, with the addition of qualities and levels for pets, it no longer felt proper to rank collections solely based on the number of pets collected.
We've also given pet score a little more visibility across the site. User profiles now show realm rankings according to pet score rather than the number of pets collected. In addition, pet score is shown underneath site comments and to the left of forum posts, beneath a user's avatar.
Rankings apply to WarcraftPets'
Top Pet Collections
and to
Realm Leaderboards
.
Top 50 → Top 500
With the popularity of pet score, showing only the top 50 collectors felt a bit too restrictive. So we've updated the Top Pet Collections list to show the top 500 collections, rewarding many more collectors for their pet collecting prowess.
So if you're an avid pet collector,
check the new list
— you might discover your name somewhere in there!

Pet Score = Zero?
We introduced pet score
two months ago
, giving our most active members plenty of time to unlock their scores. However, anyone who hasn't unlocked their score yet still has a score of zero, regardless of the number of pets they've collected.
Once a user logs into the site and reimports their collection, they're score will update and they'll be ranked accordingly.
BattleTag® Support
For all of you pet traders who are active on our
pet trading forums
, we've added support for Blizzard BattleTags
®
, allowing you to add and edit your Battle.net BattleTag
®
within your WarcraftPets account.
Once you've set your BattleTag
®
, it will appear to the left of your forum posts (beneath your avatar). Adding your BattleTag
®
can make it much easier to coordinate in-game pet trades with collectors on other realms.
According to Blizzard:
A BattleTag® is a name you choose to represent yourself on Battle.net. You may set your BattleTag® from within your Battle.net account.
Other Updates
We've implemented corrected base qualities to all non-battle pets. This update will increase the pet score for many of our users.
Base Quality
has also been added to the
General Info
tab of all pet profiles.
In addition, we've removed Captchas site-wide for

Site MVPs
, since their accounts have been verified. This also provides another minor perk to our
elite members
.
More to Come...
Some other sweet updates will be coming soon, including an expansion of pet collection filters and a
Power Search
feature. We expect these updates to go live sometime in May.
We thank you for your continued
support of WarcraftPets
, making regular updates like these possible.