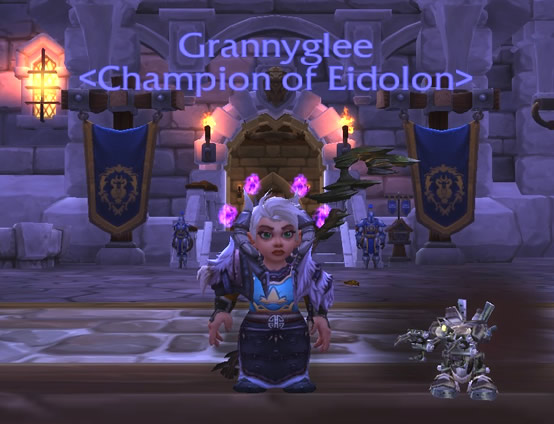 Meet Donna Glee Reim, a.k.a.
Grannyglee
. At the impressive age of 83, not only is she an avid World of Warcraft player, but she's also quite the pet collector!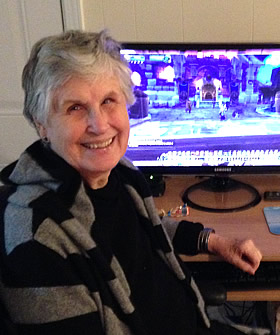 Main Character:
Grannyglee
Race & Class:
Gnome Warlock
Realm & Rank:
Kilrogg-EU
(#29)
Unique Pets Collected:
505
Real Life Location:
Alabama, USA
A Conversation with Grannyglee
We had the opportunity to interview Grannyglee about her WoW playing and pet collecting. Here's what she had to say...

When did you start playing World of Warcraft and what drew you to the game?

I became a gamer about ten years ago when I saw my granddaughter playing a game called ToonTown. I thought it looked like fun so I decided to try it. I was a bit nervous at first and would only play the arcade portion of the game. As I grew more confident, I started doing battles and became very good at the game.
When the ToonTown site closed down, my daughters who had been playing WoW for a long time suggested I try it out. Again, I was a bit nervous and it seemed very overwhelming at first. I was really just staying in the safety of the spawning zone and Stormwind when I stumbled on the pet trainer in Stormwind. It was very exciting when I got my first pet and I started growing my pet collection immediately. I realized in order to get more pets, I would have to brave more challenging areas. With the help of my daughters and through a lot of pet battles, I am now level 100.

What got you interested in pet collecting?

It is fascinating to me the variety of pets that are available and I'm motivated to get as many as I can because of the different talents that are needed for pet battles.
I like my pets to be of rare quality and level 25, so I level all of them. I like to use
Doodle
in Shawdowmoon valley to level my new pets. Doodle doesn't hit back so the low level pets level fast and don't die. I now have the confidence to go to all the areas by myself, with the only exception being a few spots in DOW.

Are you more of a collector, pet battler, or both?

Both! There is always excitement when I acquire a new pet. I enjoy the challenging pet battles because they allow me to try different pets until I win. Sometimes I will watch a video, which helps, and sooner or later I will win.

What's your favorite pet?

Lil' Smoky
is my favorite, with my second favorite being the
Emerald Proto-Whelp
. With those two pets, I can win most of my battles. I also like it when Lil' Smoky drops the rocket because it's so funny to watch and it makes me laugh. My daughter made me Lil' Smokey, so that's another reason why I like him the best.

What do you find the toughest part of pet collecting?

Finding them, but that is half the fun. It can be challenging, but I enjoy the adventure.
Sometimes for seasonal pets or pets that only appear at certain times (when it rains for example), I will camp for days. My most recent pet that I had to camp for was the
Shadow Sporebat
. After I read
the forums
, I knew he came out after dark so that helped a lot.

What's easiest about building your pet collection?

Leveling them up. I use a little routine to get them to 25 fast.
I also like running the lower level dungeons with my daughters hoping that a boss will drop a pet. I got the
Tideskipper
that way and he is really cute with the bubbles and all.

Final thoughts?

I like to play WoW because it keeps me alert. And at my age, it is good to keep my mind busy. Sometimes I am having so much fun that I don't know where the time went!
Cheers to GrannyGlee!
Here's to GrannyGlee and
her growing pet collection
! Keep up the pet collecting and the pet battles, and may Lil' Smoky continue to lead you to victory!