The PTR was updated with lots of Pet Battle content! New pets, achievements, and World Quests.
Additionally, Blizzard released information on upcoming changes to specific pet abilities, as well as plans for post-BFA tuning.
New Pets, Achievements, World Quests
Collectors will have many new companions to adopt in Patch 8.3. Lots were added since our last PTR coverage, bringing the current total to
32
new pets! Here's a quick summary.
Drops from the Ny'alotha, the Waking City raid, treasures in Horrific Visions scenarios, two new faction Paragon caches, and from creatures/rarespawns in zones that are under N'Zoth's assault.
New wild pets found in zones that are under N'Zoth's assault.
A new pet from fishing (pictured right)
An achievement reward related to Horrific Visions scenarios
Purchasable pets from the Blackrock Depths Pet Dungeon vendor, and two new reputation vendors (latter requires Revered)
Check out all pets from 8.3 PTR
Be An Awesome Achiever
New achievements in Patch 8.3 include two new Pet Dungeon achievements, and one for completing all objectives in Horrific Visions scenarios.
World Quest It Up
There will be
8
new World Quests in the two zones under assault from N'Zoth (Uldum and Vale of Eternal Blossoms). [
source
]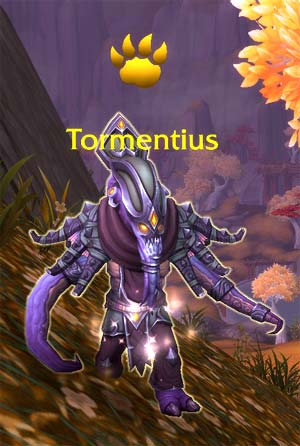 Battlers will face off against level 25 legendary quality (tiny) minions of N'Zoth
(example pictured left)
. Each one has the
Elite
buff.
These new NPCs cannot be battled unless their associated WQ is active. We'll have to wait and see if this is intended. There are currently no
Family Familiar
-style achievements tied to these encounters.
There's a lot to do in Visions of N'Zoth, including a new Pet Dungeon which we'll cover in a post in the near future. What are you most looking forward to? New battling challenges? New pets to collect?
Serving N'Zoth
...
*ahem*
Defeating N'Zoth's minions?

Patch 8.3 Changes & Beyond
Blizzard announced some upcoming buffs (and possible nerfs) to a few pet abilities and strategies. [
source
]
Certain weather abilities will be receiving a buff in the upcoming patch. A new weather type is also coming in 8.3.
On top of this, some changes to previous content: Nazjatar and Mechagon Pet Battle World Quests, and WQs and wild battles in Uldum and Vale of Eternal Blossoms will scale to the highest level pet on your active team.
In the Future
Blizzard will be looking at other abilities for balancing, however we will probably not see any changes to these until next expansion.
Black Claw and similar abilities that increase damage taken by a flat amount.
Hunting Party and similar abilities such as Flock.
The Shattered Defenses debuff effect from abilities such as Hunting Party or Flock.
Any large percent-damage-taken or percent-damage-dealt buffs or debuffs.
Twilight Meteorite and similar long-cooldown damage-splitting abilities.
The Jar of Smelly Liquid ability.
Be sure to check out
Blizzard's full announcement
on upcoming and possible Pet Battle buffs and nerfs.
What are your thoughts on the proposed changes? Feel free to leave your feedback on Blizzard's official post (
NA
or
EU
) or on our
8.3 Updates/Changes forum thread
.