We
recently covered
the upcoming Deadmines Pet Battle Dungeon, however there was a fairly significant change in the latest 7.2.5 PTR build.
New Pets, New Currency
Previously, the pet rewards from this scenario were awarded from a related
achievement
and as drops from the Challenge reward bag. This has since changed.
In the most recent PTR update, the three new Deadmines-themed pets are now instead purchasable from the NPC that sends you into the dungeon.

Players must earn a new currency,
Old Bottle Cap
, in order to buy these pets.
The account-wide Pet Battle Challenge: Deadmines weekly quest awards one Cap each week
(pictured above)
.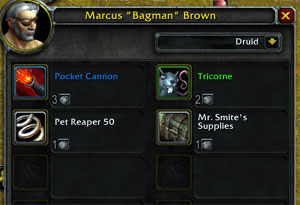 The pets are Bind on Pick Up and are not cageable, so players must complete the Challenge version of Deadmines Pet Battle Dungeon at least 6 times to collect all three pets.
In addition to selling these pets, Marcus "Bagman" Brown also sells
Mr. Smite's Supplies
(pictured right)
. This bag contains
Pet Charms
and other Pet Battle supplies, but no new pet drops.
What do you think of this change? Do you prefer buying the pets, or do you find RNG more exciting?