An update was added to the official 6.2 PTR Patch Notes that included additional information on the Bonus Event for Pet Battles. [
source
]
During Pet Battle Bonus Events, you'll be able to take your pets out for a little exercise and earn triple pet experience from battles. Winning several PvP Pet Battles as a part of a quest during the event awards the player with an Ultimate Battle-Training Stone that instantly levels a pet to 25.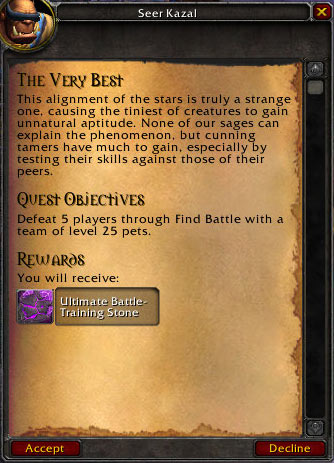 In addition to the triple pet experience buff, an account-wide, weekly pet PVP quest will be available during the Pet Battle Bonus Event.
The quest,
The Very Best
, can be obtained from an NPC located outside of your Town Hall during the event. Win five queued pet PVP matches against other level 25 teams and you'll be awarded with an
Ultimate Battle-Training Stone
.
If PVP isn't your cup of tea, you can still benefit from the Bonus Event. During the event all players receive a buff,
Sign of the Critter
. This
bonus pet experience stacks
with the
Safari Hat
,
pet treats
, and
Darkmoon Top Hat
.
The Pet Battle Bonus Event is scheduled to last for four days each month. That isn't a lot of time to take advantage of the experience buff, so better have all of your pet leveling accessories ready!