UPDATE
: After further testing on the PTR, we've discovered that the quest that rewards the Ultimate Battle-Training Stone does not have any prerequisites. All characters will be able to complete this quest once, so long as they have access to their garrison and the Menagerie NPC.
A new build was recently released to the PTR. Not only will there be more pets to collect in 6.1, there will also be new PVE content. [
source
]
Three New Pets
Are you ready for more pets to collect in 6.1? If Raiding With Leashes III wasn't enough to satisfy your collecting itch, there are three more pets just waiting for you!

These pets are drops from a new pet reward bag,
Traveler's Pet Supplies
, which is discussed below.
Visitors Come to Battle
There are new NPCs to battle in 6.1, however you may not see them at first. These Trainers will visit your garrison but won't hang around for more than a day.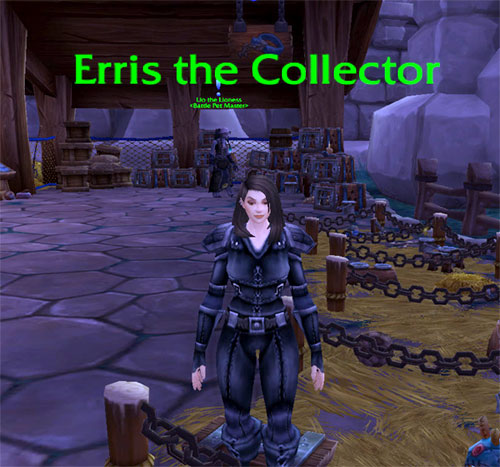 Erris the Collector (A)
(pictured right)
and Kura Thunderhoof (H) will occasionally show up near your Menagerie. Their visit is not account-wide and different characters may not see them on the same day.
They offer an account-wide daily quest called
Critters of Draenor
. Completing it rewards Traveler's Pet Supplies and three
Flawless Battle-Training Stones
. The three pets mentioned above have a chance to drop from the reward bag.
What makes these wandering Trainers unique is their set of pets. You may find that they will sometimes have a
different team
during subsequent visits. There appear to be
15 different pets
that might be related to the new Trainers.
Their pets also have a unique mechanic — they don't have a static set of three abilities. Instead, the pets have a pool of six pre-determined abilities, much like a player's pet. Each ability slot has two possible attacks that can be chosen for each encounter, so every match you enter with Erris or Kura might be slightly different than the last!
And Another Visitor...
Speaking of dynamic pets, you may find another visitor in your garrison with a special pet team.
Alchemist Hanmos
(A) will occasionally visit and station himself inside the Town Hall, just outside of the Archaeology room.
Co-author of our Pet of the Month series, Liopleurodon, had the pleasure of challenging Hanmos to a Pet Battle on the PTR. The quality of his pets changed each time she entered a battle with him.
As
noted by Liopleurodon
, defeating him will count towards the 150 Pet Battles necessary to unlock the Menagerie, but it will not count towards the achievement
Draenor Pet Brawler
.
There aren't any rewards for besting Alchemist Hanmons in a Pet Battle, however pets do earn a notable amount of experience. The
experience gained
is a little less than the Pandaria Trainer battles.
The Ultimate Rare Candy
The Menagerie NPC will have a new quest for players in 6.1, called
Unearthed Magic
. It's a simple, one-time only quest that rewards the
Ultimate Battle-Training Stone
.
This quest can be completed on different characters, however further PTR testing will be required to determine if there are any prerequisites to acquire this quest...other than unlocking the Menagerie, that is!