Patch 6.1 is live and there are new pets to collect, trainers to defeat, and Menagerie changes. Check it out! [
source
]
18 New Pets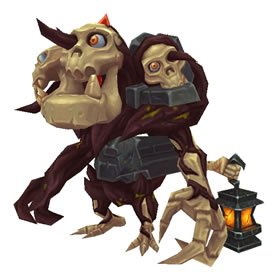 View All New Pets
New Features and Changes
The difficulty of all Menagerie-related battles has been reduced (including the unlock quest Pets Versus Pests). Pets are no longer legendary quality.
Along with difficulty, experience gained from Menagerie battles has also been reduced.
A new quest from the Menagerie NPC, Unearthed Magic, rewards a new Battle-Stone, Ultimate Battle-Training Stone. Only level 100 characters with a level 3 garrison can access this quest, and it can only be completed once per character.
All Battle-Training Stones are now BoA.
Pet Charms are now also BoA and they stack to 1000. Hooray for bag space!
The Sea Calf is finally available from Nat Pagle for 50 Lucky Coins. It currently doesn't require reputation with Pagle, but this may change.
A new traveling trainer, Erris the Collector (A) and Kura Thunderhoof will occasionally visit your garrison Menagerie and offer the daily quest Critters of Draenor. These new NPCs will not appear every day, and not all characters will experience a visit on the same day. Each battle might be slightly different than the last, as they have a total of five different pet teams and their pets can "swap" between their six predetermined abilities.
With so many new pets to collect in Patch 6.1, which pet are you most excited to collect? We're torn between all 13 Raiding With Leashes III pets!