The pre-expansion patch is here — "The Iron Tide" introduces a few new pets and accuracy changes to Pet Battles. It's just a small taste of what's to come in Warlords of Draenor! [
source
]
Patch 6.0 Pets and More
The
Iron Starlette
is a reward from a quest chain. Players will need to fight back the Iron Horde that have taken over a revamped, level 90 version of Blasted Lands. At the very end of the short adventure, the final quest
Report to the King
(Alliance) and
Warning the Warchief
(Horde) will reward the pet.
While battling the Iron Horde in Blasted Lands, keep your eyes open for a special drop off of the
Ironmarch orcs
. There's a chance you'll loot a Time-Locked Box which teaches the
Bronze Whelpling
.
According to Jonathan LeCraft, Senior Game Designer, the Bronze Whelpling
will still drop from mobs
after "The Iron Tide" event is over. This pet is also cageable so if you're not interested in killing orcs, the Auction House might have a Bronze Whelpling with your name on it!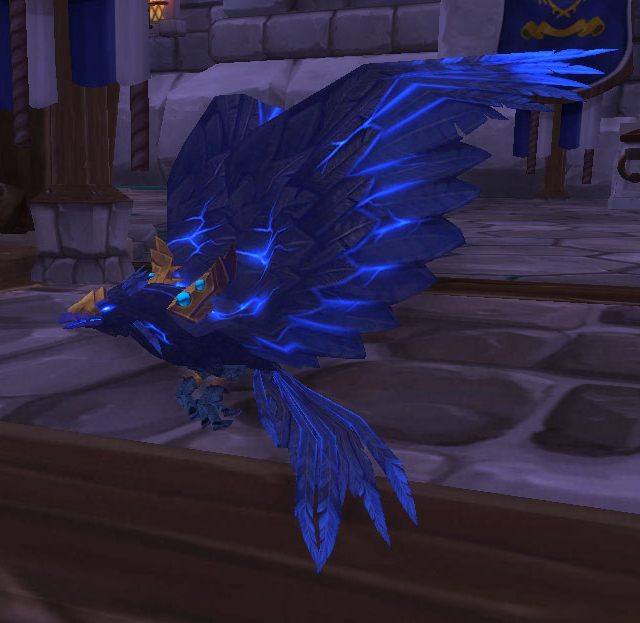 Another new pet that you'll be able to start working towards (if you don't meet the requirements already) is
Stormwing
(pictured right)
. Completing the achievement
So. Many. Pets.
(collect 600 unique battle pets) rewards this beautiful blue bird.
Last but not least,
Sky-bo
is a new pet that seems to have snuck into
Blingtron 4000's daily gift package
. Be sure to speak with him for a chance at your very own miniature version of a
Sky Golem
!
There are more pets that might become available in the weeks prior to WoD's release, but we'll have to wait and see if these in-game events are updated with the new holiday content.
Although there are only a few new pets to collect in Patch 6.0, the Pet Journal has previews of upcoming WoD pets. These pets cannot be collected at this time, but we've added them to the database for your viewing pleasure.
Over 90 new pets added!
Accuracy Changes and Damage Ranges
A few months ago, we covered the
changes to hit and critical strike
in Pet Battles. These updates are now live with Patch 6.0.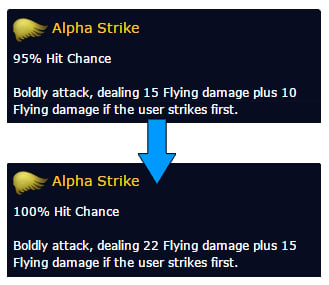 Many abilities have had their values changed and now have 100% base hit
(example right, tooltips courtesy of Wowhead)
.
A
damage variance
was also implemented for some attacks, such as
Crush
and
Dive
.
Keep in mind that the accuracy change mainly applies to pet abilities that were already very close to 100% base hit (90-95%). Attacks with low base hit, such as
Demolish
, remain largely unchanged.
With these accuracy updates, miss-streaks should occur less often. However, it is still possible to miss, especially if a pet is under the effects of
an ability that reduces hit
. And even though your pets may hit more often than miss, these changes mean trainer pets will also have a better chance at landing an attack.