UPDATE
: Player experience earned from Pet Battles was hotfixed. A blue post provided some clarification and insight on how experience is calculated. [
source
]
It's been a few days since
Patch 5.2 was released
, and a few bugs were discovered along with some updates to existing content.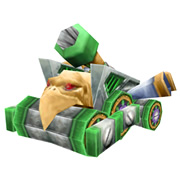 Update to the Darkmoon Faire
The regular Darkmoon Faire dailies now reward
Darkmoon Game Prizes
. These packages will always contain a faire ticket, but now they also have a small chance to drop any of the Darkmoon Faire vendor pets! [
source
]
Note that it's unlikely the Darkmoon Eye will also come from the Darkmoon Game Prize. This pet will probably remain exclusive to the
Darkmoon Pet Supplies
.
Known Bugs In 5.2
Player experience earned through successful battles is slightly over-tuned, and a hotfix will be implemented to address this issue. [source]
Pets that can only be obtained once, such as companions rewarded from achievements, were changed so any earned after 5.2 was released would only be of a single breed. However, pets that were earned prior to the patch still retain their original breed(s). Developers are looking into a way to change these existing pets into the new single breed. [source]
The Gusting Grimoire is currently uncommon quality. It will be hotfixed to the intended rare quality in the near future. [source]
If you notice any other 5.2 pet-related bugs, feel free to
discuss them here
.
Updates to Pet Battle Guide
In light of the new mechanics added to Pet Battles in 5.2, we've updated our
Guide to Pet Battles
with all the latest information:
Updated Guide to Pet Battles