Collectors have been patiently waiting for information on where Squirky, a new baby murloc battle pet, would come from. Well, the wait is over!
Squirky Now Collectible
Blizzard
revealed
this week that
Squirky
(pictured right)
can be found as a level 25 wild pet on Seabreak Isle. This island is off the
north-western coast
of Azsuna.
"Looking to add to your in-game pet collection? Be prepared to face dangers untold just off the coast of Azsuna on Seabreak Isle. These elite members of the Squigglefin tribe aren't going to be happy about your visit to their little home, but if you're lucky, you'll be able to find Squirky among them. Summon your veteran pet battle team into action, and make him a part of your own band of merry battle pets."
Although Squirky is a lovable little murloc, its larger counterparts are not as friendly. Level 110 hostile elites with a very fast respawn time swarm the island. Collectors may want to bring a friend or two to help.
So tell a buddy and head out together to Azsuna. Your very own Squirky awaits!
Hug Squirky In Person
But wait, there's more — not only can players collect this pet in-game, a soft, cuddly version is available too.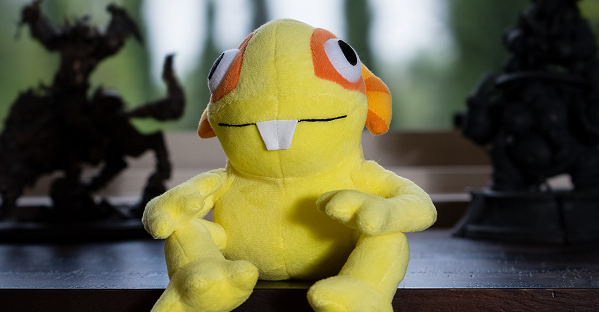 A Squirky plushie
(pictured above)
is now available in the
Blizzard Gear Store
.
Note: The in-game pet and plushie are separate collectibles, and are not tied together. Collect one or the other, or better yet both!
Adopt Squirky and you can give this adorable baby murloc a big hug in person.