LOOT GIVEAWAY UPDATE!
We forgot to mention that both Friday and Monday we're celebrating the arrival of the Nightsaber Cub with more
Loot Giveaways!
Follow us on
Twitter
tomorrow between noon and 2:00 EST and you could win one of Landro's coveted loot pets!
We'll also be running a second giveaway this Monday through our new Facebook fan page. Yes, we'll finally have a
Facebook fan page!
It will be online by the end of this weekend, so be sure to friend us and join the loot giveaway fun on Monday!
Loot codes for the Nightsaber Cub are going fast, so if you haven't ordered yours yet,
buy it now
through WoWTCGLoot!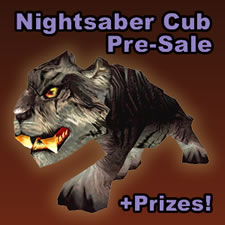 Once more we've partnered with
WoWTCGLoot
to bring you another great vanity pet loot pre-sale! The Nightsaber Cub is the new
Twilight of the Dragons
common loot featuring an original skin not seen in other vanity pets. This TCG expansion is due out in stores July 26th (next Tuesday).
Why Pre-Order the Nightsaber Cub?
In addition to being one of the first players on your server to sport this adorable new feline, here are three more wondeful reasons to
order today
:
Rare Pet Loot Prize - Everyone who pre-orders a Nightsaber Cub will be entered into a random drawing to win a rare [Spectral Tiger Cub].
Orders Support WarcraftPets - What can be better than adding another easy-to-get pet to your collection? Helping your favorite pet collection website! A percentage of every pre-order helps support our site.
Limited Supply - We have less than 200 codes left, available on a first-come, first-serve basis. Order today to secure your entry in the Spectral Tiger Cub loot giveaway mentioned above. Plus you'll be able to redeem your Nightsaber Cub instantly the day it's released.
If you have any questions regarding the pre-sale or WoWTCGLoot's special prizes, please
contact WoWTCGLoot
directly. Best of luck!