UPDATE
: Blizzard and Cryptozoic have fixed the bug affecting the Nightsaber Cub loot codes. We and the folks at WoWTCGLoot would like to thank you everyone who pre-ordered for your patience. Now... go redeem that Nightsaber!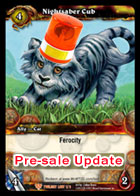 Our friends at
WoWTCGLoot.com
have uncovered a serious bug concerning the new
Nightsaber Cub
loot codes:
"A very high percentage of their codes are returning back as 'Redemption key does not exist' in the Blizzard Promotion webpage. Due to this serious issue, our merchants will closely monitor the situation and delay sending out further codes until this problem is solved. It appears it could be related to regular Tuesday maintenance. Thank you for your patience as we wait for Blizzard and Cryptozoic to solve the problem."
[
source
]
We understand many of you have pre-ordered your Nightsaber Cub and were hoping to receive your code today. Unfortunately the issue is outside of our control. We do have full faith in Blizzard and Cryptozoic to resolve the issue in a timely fashion. We will keep you posted with any updates to the situation.